Energy
Electricity and fuel consumption
Project Targets
20% Construction energy sourced from renewables (or GreenPower)
6% Operational energy sourced from renewables (or GreenPower)
20% energy reduction over the Project lifecycle
Performance
Tunnelling operations are the most energy intensive stage of the lifecycle of a tunnel asset due to the significant amount of electricity required for lighting, signing, emergency services, drainage, deluge and ventilation systems. JHCPB is committed to exploring opportunities for energy reduction through the use of energy efficient equipment during operations and the investigation of onsite renewable power generation. Initiatives assessed and implemented during design include:
Use of LED lighting in tunnel including tunnel transition zones and cross passages
Optimised ventilation design
Optimised drainage design
Opportunity for implementation of PV panels on operational buildings/facilities presented to the client
Construction measures and initiatives to reduce energy consumption include:
Purchase of carbon offsets
Purchase of accredited Green Power
Local procurement
Evaluation of fuel efficiency in plant and equipment
Use of alternative/lower carbon emitting materials
From April 2020 to March 2021, the Project consumed 22.5% of the total estimated electricity demand during construction. This figure is representative of the delay in tunnel electricity set up for excavation.  Tunnel electricity (the largest energy consumer in the project) was initially provided via diesel generators until March 2020.
During the review period, a total of 23 road headers were simultaneously operating out of Rozelle Rail Yards tunnelling sites and Iron Cove Link. The graph below illustrates the monthly breakdown of electricity consumption across the Project based on invoicing date. The review period is outlined in red.
The Project's performance on Green Power (GP) Purchase is on track to meet the target in 2022. Green Power is supplied via the Project's electricity contract for tunnels. To meet the required 20% GP purchase during construction, the Project team will vary the tunnelling electricity contract to offset surface works electricity consumption. GP performance is outlined in the second graph below.
Electricity consumption on the Project PTD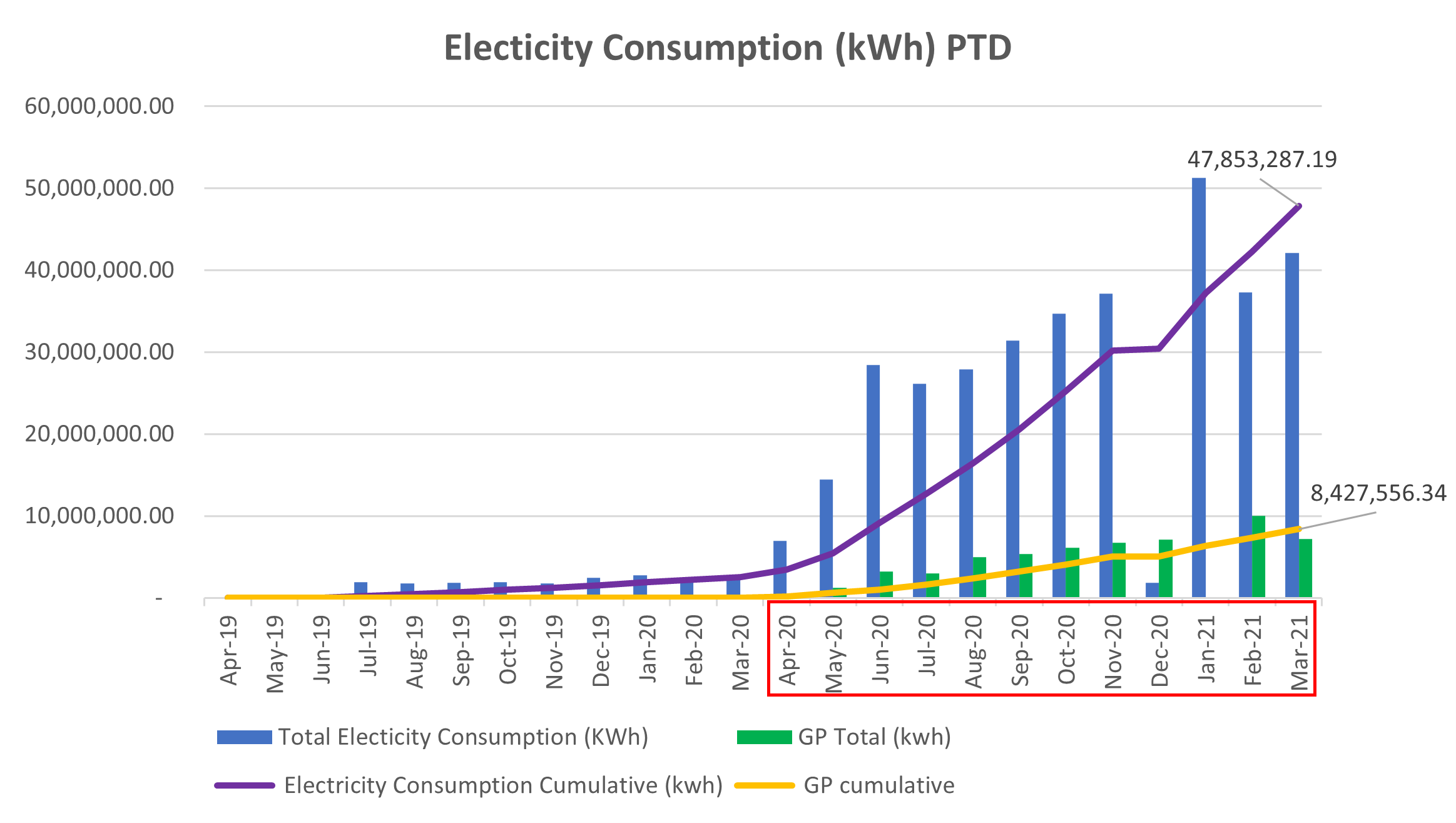 Green Power Purchase Performance 2020-2021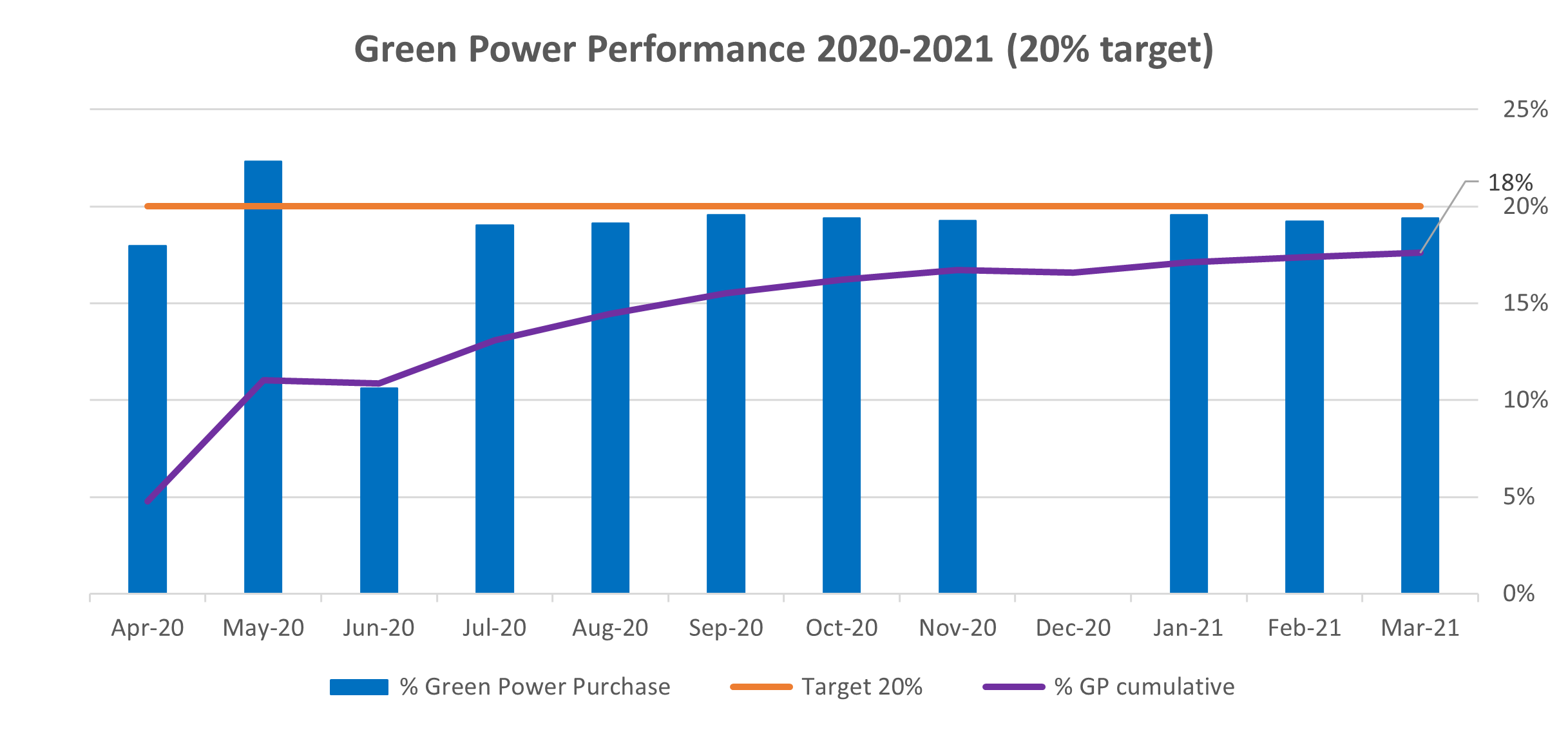 Fuel 
Fuel usage is also an important contributor to the generation of greenhouse gas emissions in infrastructure projects. Fuel consumption during delivery is tracked on a monthly basis via invoices and subcontractor data in line with the National Greenhouse Gas and Energy Reporting (NGERs) Act 2007.  
With the commencement of tunnelling power contract, plant and machinery initially running on diesel generators switched to electricity. Activities occurring during the review period include: During the review period, the project consumed 37% of the forecasted estimate for fuel usage. Monthly and cumulative consumption of Diesel and Petrol are presented in the graphs below.
Fuel consumption on the Project - Diesel PTD
Fuel Consumption on the Project-Petrol 2020-2021